Believe it or not, one year ago today I created this Space and made my very first blog entry. What a long game trip it's been...What's this? A congratulatory greeting for little 'ole me? I wonder who it could be?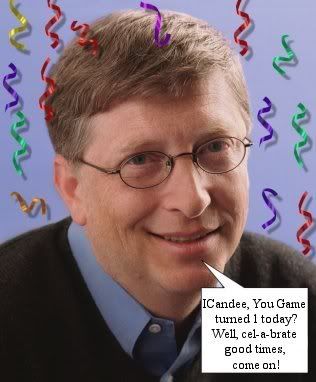 Why thank you Mr. Gates! I feel so honored...

You know, I would like to thank everyone that reads my blog for well...reading my blog. I've met a lot of cool people (a.k.a. Spacers) through this little blog of mine (most of which are now gaming buddies) and I have to say that I'm thankful for our gaming community here on Spaces. Thanks also for visiting and leaving comments here at ICandee, You Game as well as writing the entertaining blogs that I enjoy reading every day. I really do appreciate it!

Y'all come back in another year now, ya hear?